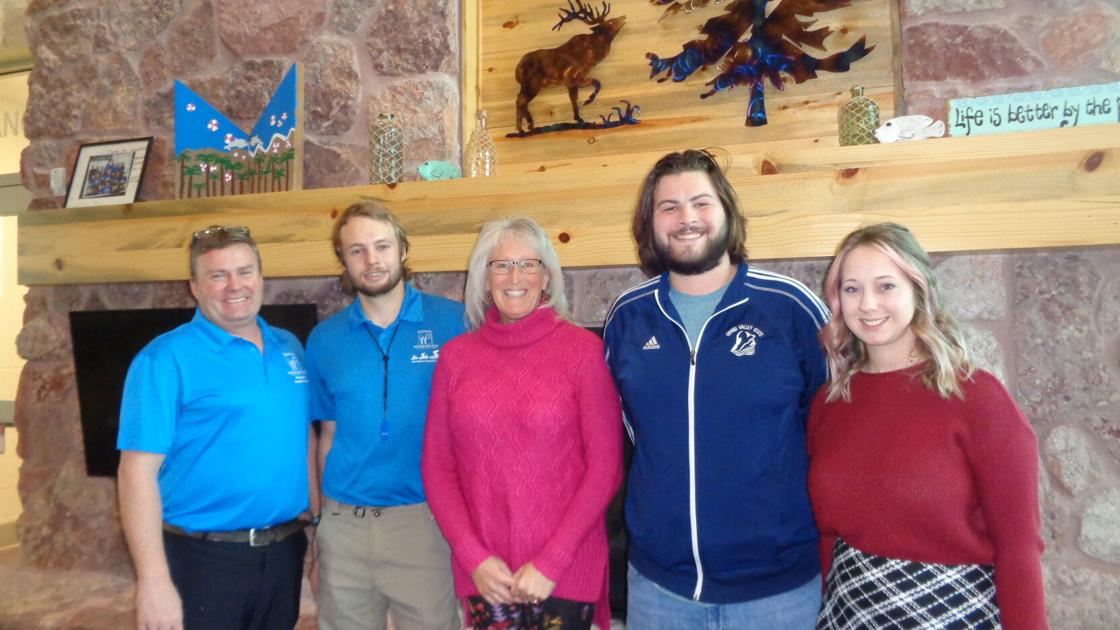 Woodland Aquatic Center Offers High School Credit for Lifeguard Skills | Pikes Peak Courier
Dance lessons, swimming lessons, academic credits and experienced staff with a go-go attitude, the Woodland Aquatic Center is one piece of equipment that sets the town apart from Woodland Park.
"For the population that we have in the city and county, in general, this facility is wonderful," said Brady Warner, who manages the center. "I don't think there is anywhere else in the country with a facility of this caliber, given our base population."
Part of the city's Parks and Recreation Department, under the direction of Cindy Keating, the WAC, as it is called, offers physical education accreditation for swimming. "We are working in partnership with the high school to provide credit for lifeguard courses," Warner said.
With the partnership, the school district is providing the coach while Warner and vice-principal Laine Wilberding teach the course which begins in January.
"I grew up in the aquatic environment, both of my parents were teachers who ran swimming pools during the summers," Warner said. "I'm an all-American swimmer and have been running pools for 30 years now. "
Wilberding, a 2019 graduate of Woodland Park High School, oversees operations, is the head of repairs, and in his spare time teaches swimming.
"Laine is amazing with mechanical stuff, beyond his years," Warner said. "With his ability to diagnose and work on our super premium engine and heater here, Laine is proficient in just about everything we have."
Despite having a state-of-the-art swimming pool in the city, Warner faces some hurdles when it comes to the labor pool.
"My problem here is that we are three generations removed from the people who have swimming pools in this area," he said. "So there are generations of people who can't swim and don't know pools. "
The generational gap presents challenges for the pool manager to hire lifeguards. "These kids weren't introduced to swimming unless they came from somewhere else," he said.
In an attempt to hire lifeguards, Warner joked that he tried to recruit all the teens that walked through the door.
"Our challenge is to get people to feel confident enough to take rescue courses," Warner said.
The problem is not unique to Woodland Park, said Keating, the manager.
The pool offered a lifeline for the elderly, especially those who had not left their homes for months due to pandemic closures. After being open two days a week for adult exercise, the pool is now open from 5:30 a.m. to 12:30 p.m., Monday to Friday.
"People are really excited about the extended hours," Warner said.
In addition to the aquatic center, the department intends to accommodate all the interests of the community.
With Tim Galbraith as athletic coordinator, there will be a range of new opportunities. "We hope to host kickball and adult soccer tournaments," he said.
In the meantime, the department has a high school basketball team and continues to offer hockey skills and drills classes during the winter.
For teenagers looking for a job, there are sports refereeing positions. "We pay them and provide uniforms and training for our officials," Galbraith said.
Sarah Minton, a recent college graduate from Bastrop, TX, brings new ideas to the department. In addition to designing websites and keeping programs in public view, Minton is responsible for updating the 2022 Leisure Activity Guide. Survey results show the community wants more programs for them. teens and toddlers, Minton said.
For now, Minton is introducing free dance lessons to include Latin fusion and East Coast swing among the possibilities.
Due to the growing number of COVID cases in Teller County, Minton plans to launch a combination of in-person and virtual programming.
"Maybe a cooking class in the comfort of your own home," she said. "We are trying to target different populations, by opening up new territories.
Keating is optimistic about the possibilities offered by the skill mix of the staff, which includes Nicole Evans of the Ute Pass Cultural Center.
"The city and I are very fortunate to have such a talented team in the parks and recreation department," said Keating. "Stay tuned as we have things coming and going. "
Next up is Winter Day in the Park from 3:30 p.m. to 5 p.m. on December 3 at Memorial Park, followed by the tree-lighting ceremony at 5:30 p.m. that day.