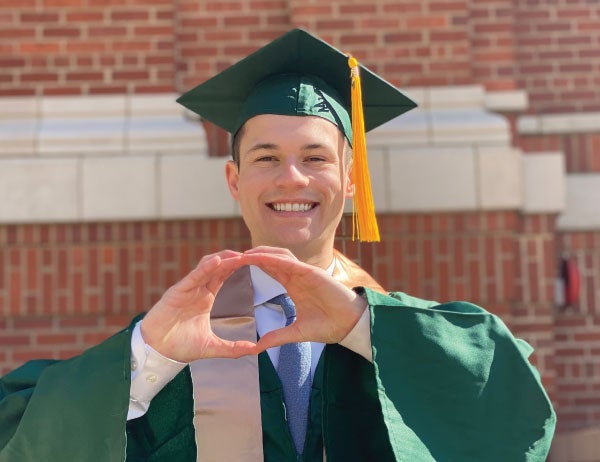 The value of flight school
For Daniel McCloskey '22, being part of Lundquist College's inaugural flight school cohort shaped his business school experience in ways he couldn't have foreseen.
Flight School, an exclusive offering from Lundquist College of Business, is designed to set up freshman and transfer business students for ultimate success in and out of the classroom.
McCloskey mentored freshmen from Oregon, California, Texas, and Alaska and maintained a steady roster of six mentees. In the fall of 2021, he was promoted to lead all mentors in the program.
During their time at flight school, students learn a multitude of skills, such as communication, teamwork and cultural competence, while building a community with other students and discovering their interests in the business disciplines. Most importantly, students grow their network by connecting with experienced student mentors like McCloskey.
When not working with the recently launched Flight School program, McCloskey also served as vice president of finance in the UO student club chapter of the American Marketing Association. While there, he met a mentor himself, Olga Vargas, director of marketing at Vernier, an educational software company based in Portland, Oregon.
"In my first two years, I was more focused on school and sports and real college life," McCloskey said. "But when I came home because of the pandemic, I turned on the jets and focused on what I wanted to do after college," he said.
With Flight School, McCloskey recommends aligning with an advisor like he did with Kim Rambo-Reinitz.
After graduating in March with a business degree with a concentration in marketing and finance and a minor in economics, McCloskey completed a remote internship at PowerSchool, an education technology company, performing marketing analytics.
He now works for AT&T in Sacramento, Calif., as a vendor management specialist, using the finance and management skills learned at Lundquist College of Business daily to track key performance indicators and vendors.
"One piece of advice I've always told my mentees is to reach out to people and network," McCloskey said. "Once you graduate and start reaching out and networking with people, you are no longer a student. You become someone looking for a job, so people may be reluctant to meet you.
He added: "As a mentor, I learned how to lead a team, create teamwork and motivate people."
—Kaylee Smith, Class of 2022