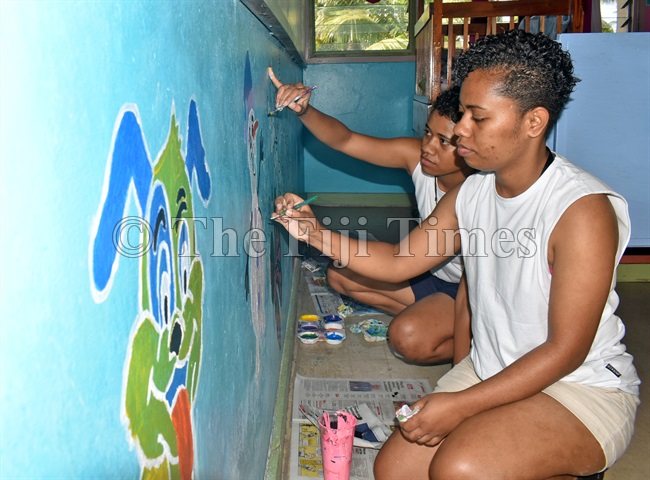 The Fiji Times » Selfless Fiji's labor of love
Youth volunteers who are members of a Facebook group are beginning to have positive impacts in communities across the country. Selfless Fiji, the brainchild of finance worker Solomone Rabuli, was formed after he posted a request on Facebook for volunteers interested in community work.
The group recently completed their latest project painting a new building including classrooms at Muaira District School in Naitasiri.
"A teacher from the school, Vito Cokanasiga, sent a request on our Facebook page asking for our help in painting their new school building," Rabuli said.
"We were honored by the invitation of the school and the villages to participate in creating a vibrant and dynamic look for the school."
In addition to volunteering in a new project, young people in Suva saw community involvement as an opportunity to travel and experience new things.
Many were overwhelmed by the warmth and cheeky friendliness of the locals.
"The hospitality was just amazing. We were treated with love and appreciation throughout our stay at the two project sites (Muaira District School in Naitasiril and Nabalabala Kindergarten in Ra)," Mr. Rabuli said.
Villagers felt that Selfless Fiji members were being paid for volunteering their time.
"We pointed out to them that as community volunteers, we weren't."
"Our reward was seeing the excitement and joy on the children's faces when the project was completed. Sai Yang Chang, a volunteer, said the project brought forth an experience he will never forget. "Being away from home, I had no idea what I was getting into," he said.
"The warm welcome from the school management in the villages of Lutu and Matainasau exceeded our expectations.
"The love and gratitude they showered on us during our stay made us realize what life was really about." Mr. Chang was encouraged that rural life taught them to cherish the "simple things in life that are free".
"Sometimes we have to remember to be grateful and appreciate the little things in life.
"A big vinaka vakalevu to the founder of Selfless Fiji, Mr Solomone Rabuli and a group of volunteers for giving of your time and effort in the service of others."
Keresi Vosa said she was honored to be part of a group that has brought happiness into the lives of rural people.
"I am fortunate to be able to give back to the community of Lutu, Wainimala in Naitasiri through Selfless Fiji," she said.
"I look forward to being part of the many projects planned for the future."
For Manasa Dauni, the journey to the heights of Naitasiri was "a great experience and a blessing".
"We were received with open arms and big smiles from the villagers of Lutu and Matainasau and it is this same spirit that we wanted to leave with them," he said.
"It was so rewarding to see the children gaping at the walls and admiring the colorful display of drawings on them. It was definitely worth it." Isoa Vavaisamana said the project was a moving experience, especially seeing how upland children, who were often left behind in education, genuinely enjoyed their work.
"As they walked along their hallways with smiles on their faces, I couldn't help but feel happy," he said.
"Just being part of a group like Selfless Fiji and being able to bring joy to children is an incredible feeling."
Mr. Rabuli said the visit to the Naitasiri Highlands, being a first for most of the volunteers, was a great opportunity to learn and share.
"They (the volunteers) really enjoyed the scenery, the food and the wonderful experience," he added.
"I am very proud of the work we do as we are able to provide a unique experience for volunteers to enjoy life away from their urban comfort zone. He said that in the group's three consecutive weeks of volunteering, the team enjoyed a variety of traditional, well-cooked meals.
"The menu was made up of different combinations, from pork to greens."
"Our hosts ensured that anyone who was vegetarian or only ate certain foods was catered for with alternative meals."
Of course, the volunteers had to bathe in the cool waters of the Wainimala River after those long hours of hard work and ending a few days with a few chilled kava sessions.
"Safety was always paramount and we made sure that was emphasized at all times and everyone was on the same page while having fun."
"We had kava sessions during our stay and even during our painting session. Make sure it was not necessary for volunteers to be involved unless they wanted to. He said the band aimed to do more people-to-people engagements with disadvantaged and inaccessible groups. His next project is at Father Law Home.
"I encourage anyone who enjoys offering their God-given talents and skills to be a part of this cause and make a difference in the community."
Mr Rabuli said Selfless Fiji's journey so far has been nothing short of amazing and the future looks bright.