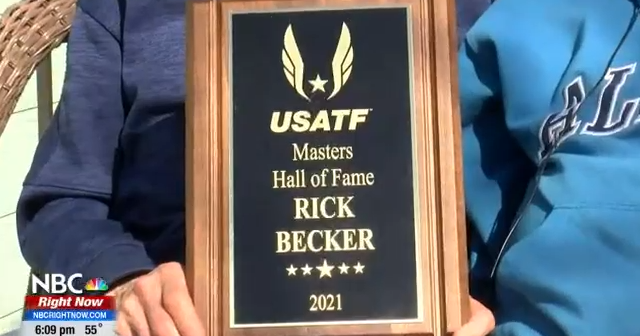 Selah High School Track and Field coach in the United States TF Masters Hall of Fame |
SELAH, WA – Rick Beck has been racing for about 50 years. His starting line was when he was a sophomore in high school.
Becker says he was too small to consider playing sports like basketball or soccer, so his next thought was cross country.
About two weeks before the trials, he traced a half-mile around his neighborhood. Ran back and forth and realized he wasn't tired. So Rick kept running.
Once he stopped he realized he had run about 10 miles. During his trials, he was part of the high school team.
As he got older, his legs grew stronger. When he arrived at community college, his athlete joined the school's top seven.
Over the years Rick has won many medals and awards. He even broke a few records and even wrote a book, soon two.
Talking to Rick, I learned about his struggles when he was younger. A doctor once told him that he couldn't run much because of the shape of his legs. "I came out and said, 'I'm going to do whatever I want'.
He says what he was told only pushed him to be better at racing.
Not only is Rick a runner, but he's also an athletics coach at Selah High School, where he says his students call him the GOAT.
Rick was recently inducted into the USA TF Masters Hall of Fame, which he says is unexpected.
"I guess they thought I was worthy of the honor, but it still kind of confused me because I thought, 'Man, I'm only 67.' goals that I pursue," he said.
Among these goals, stay motivated. Rick and his wife, Patricia, told me about their running journey together and what led to them getting married.
The two met in college on the running track. Patricia Becker is a runner herself. She, along with their five children, have been there throughout her injuries and recovery.
Rick is recovering from a knee injury while preparing for a race in two weeks.
"I think he'll be fine. I just don't know if he can run as fast as he would like. He just goes when the shot goes off and then he's in run mode," said Patricia.
Rick Becker says if you think about it and find a passion, you'll accomplish anything.