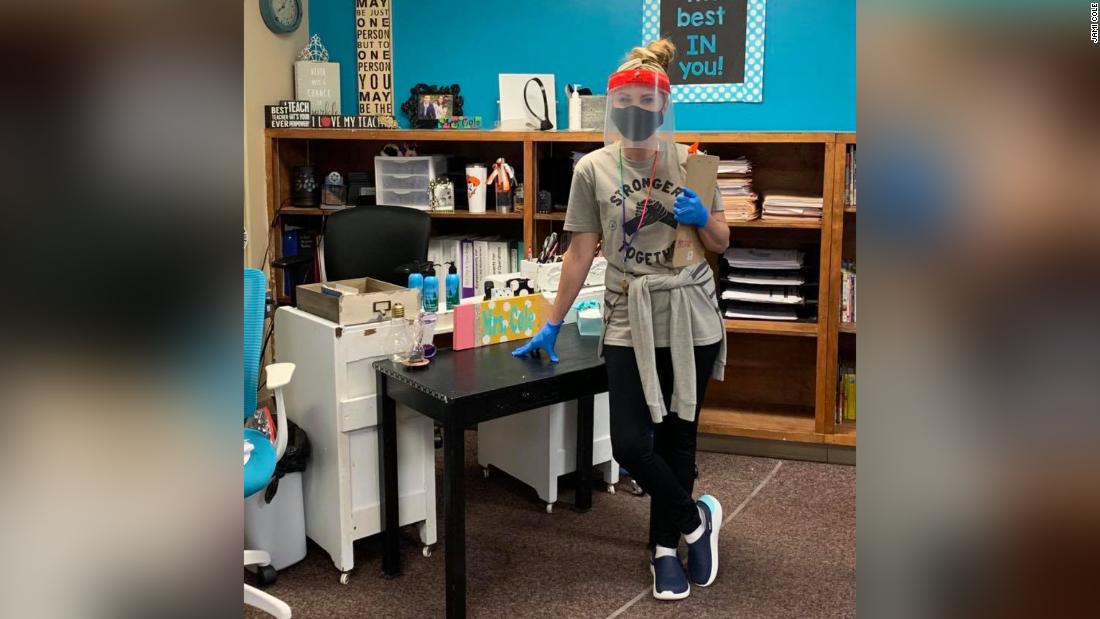 Opinion: Call for help from a teacher in the middle of Omicron
But this year, like the previous two, things have been different.
After starting the year with relative stability (at least for a pandemic school year), rumbles of the Omicron variant of the coronavirus, which many feared was even more contagious than Delta, began to make national news and local around Thanksgiving. All I could think of was: Please don't let this lead to another surge, another episode of school closures, another wave of fear for the health of my students – and my own health. But within a few weeks, my fears were confirmed.
Now, I find myself in my classroom every day in a state of despair, doing my best to provide education and support to my students while trying to keep them – and myself – safe.
From the outside, it may seem that with the preventative measures available to us to protect against infection, masks in mind, we should be able to continue teaching in person safely during this wave. But we largely operate without many of these protective measures, hampered by the Oklahoma state government's refusal to mandate the use of masks and its efforts to stop schools from requiring the use of masks. masks in the classroom. It is not enough to have knowledge of how to stay safe; to prevent disease, this knowledge must be used.
But to truly understand the emotion that overwhelmed and overwhelmed teachers as we battled this Omicron spike, you need to know what the past two years have been like for us.
Since the start of the pandemic in the spring of 2020, each teacher has faced their own challenges. For me, it was both professional and personal; it was almost impossible to feel like I was properly supporting my students while their education was in a state of chaos and uncertainty. And, on a personal level, I was terrified of catching Covid-19 — or even worse, of my husband, Drew, who is a high school teacher, catching it. I was recently diagnosed with rheumatoid arthritis and Drew is battling leukemia. These conditions make us especially vulnerable to serious illness if we catch the coronavirus.
But we continued to work, dedicated to teaching our students.
I started to realize how badly my children were affected by Covid just before spring break in mid-March 2020, when one of my students asked for a hug before getting into his car.
I replied, "How about a punch instead?"
He was discouraged. I'll never forget the look in his big brown eyes when he said, "Is it because of the corona?"
Indeed, what was about to happen was the end of this school year as we knew it. During spring break that year, my public school district closed schools until the end of the school calendar. So, my students and I started navigating the world of virtual learning. I conducted my lessons on a whiteboard in my living room while our dogs barked. My students were more interested in showing me their toys than paying attention to their work. But we survived the end of the school year.
Fast forward to August 2020 – a brand new school year and a return to in-person learning. Being back in class has quickly become a coronavirus dodgeball game. Although masks and hand sanitizer are hard to come by, we used whatever we had access to, following US Centers for Disease Control and Prevention guidelines as they changed. and were evolving with new information about the virus. Teaching with a mask wasn't easy – but I gladly did it, grateful for the thin sheath around my face that gave me some protection.
When wearing a mask was uncomfortable, I remembered those days of virtual learning and how difficult, even traumatic, they were for children. I thought about how my students hovered alongside me during recess when we returned to school in person, as if trying to stay as close as possible to whatever stability they had to handy. I also thought about the attention issues I had noticed upon our return that I hoped would not persist over time.
Although my students are still resilient, the instability of the past two years has taken a noticeable toll. And so I know how important it is for communities to do everything in their power to keep schools open and keep children and staff safe within their walls – and that means wearing masks.
I have to imagine that the anti-masking crowd doesn't have these realities of learning and development in mind when they shout about personal freedoms and not the muzzling of children. For them, it seems, teachers who have advocated for mask use have gone from heroes teaching and caring for their children to oppressive villains. Anti-mask posts swirled on social media sites, and legislation in my state was passed to block mask mandates from entering public schools (although, thankfully, a county district court in Oklahoma imposed a temporary suspension of this law in September). Oklahoma Governor Kevin Stitt, the nation's first known governor to catch Covid, made it clear he was not going to prioritize health and safety over his own personal beliefs.
So now teachers like me are lost. During the pandemic, I unsurprisingly caught Covid twice, disrupting the school year for me and my students. Drew, miraculously, didn't catch it. I worry about him every day. I also worry about what the rest of the year will bring to my class.
Teachers need support to run their classes. We need to be able to come forward every day knowing that we are empowered to protect ourselves and our students. Whether we will get that support, I don't know. But what I do know is that I will continue to show up for my children, because that's what the teachers do.