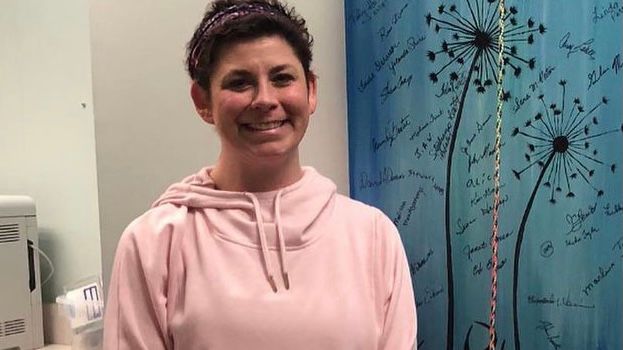 Lexington teacher survives breast cancer
LEXINGTON, Ky. – The American Cancer Society predicts that nearly 282,000 women will be diagnosed with breast cancer this year, with more than 3,800 living here in the Commonwealth.
Stephanie Lester is a breast cancer survivor who is grateful for her journey, not only in October for Breast Cancer Awareness Month, but 365 days a year.
---
What would you like to know
Kentucky teacher shares her story after breast cancer survivor
American Cancer Society Predicts 282,000 Women Will Be Diagnosed With Breast Cancer This Year
Stephanie Lester found a cancerous mass in her breast January 2018
Lester received treatment from CHI Saint Joseph in Lexington
---
Lester is a Spanish teacher at Lafayette High School in Lexington. In her spare time, she is a group fitness instructor, for which she is very grateful after discovering her breast cancer mass during a self-examination.
"Just joy and gratitude," Lester said.
These are the words that come to mind Stephanie Lester after surviving breast cancer. It is a disease that kills 1 in 39 women each year in the United States according to the American Cancer Society.
She found joy in her journey because it was something she knew she had to do to help women have the same experience. Now she can offer that much-needed reassurance or a shoulder to lean on for women diagnosed with breast cancer.
"I myself found the bump in January 2018, it was a Saturday. My husband checked it out, one of my best friends checked it out. I made everyone feel it for me to see that this looks weird to you too? Lester said.
She was only 39 when she found her lump in her right breast, a year before doctors recommended women start coming for their annual mammograms. Expert Kelly Toponak from CHI Saint-Joseph said early detection saved Lester's life.
"Early detection is probably what matters most. I'm sure you've heard that early detection saves lives, it's so true. It's such a simple statement but it's so true, "Toponoak said. "The American Cancer Society recommends that you start doing breast self-exams in your 20s and 30s, they should be done every month, usually 7-10 after the start of your menstrual cycle. That is. then your breasts are less swollen and you don't have the pain you have with your menstrual cycle. "
Lester immediately went to his family doctor and was referred to CHI Saint Joseph's Breast Cancer Center. She thanks her surgeon and the entire team for their care and compassion throughout her treatment plan.
"He couldn't pull it off right away because it wasn't what we had planned, but he explained to my husband while I was beside himself and then after we talked. He said there was so much he couldn't see the end of the cancer, "Lester said.
Lester's cancer had wrapped around her breast tissue, in places that were difficult for surgeons to access. She even had precancerous lumps in her left breast, which led to her having an option – a double mastectomy.
That didn't stop Lester from returning straight away to the classroom that has been his passion for the past 20 years.
"My principal would come into my classroom and say, 'Why are you still here? Go home, go and rest! ' I didn't have enough sick days to get through all of my surgeries, chemotherapy, radiation therapy and all that, "Lester said.
Not having enough sick days turned into a blessing because her colleagues gave her theirs, came with the support of many students and staff. Lester knew she had to make the decision to fight cancer.
"That's pretty much what I did, so it was almost blinders that year. Go through it, do it, do everything to be as healthy as possible and get through this year. Doing breast self-exams no matter how old or young you are, it can literally save your life, just like mine, "Lester said.
Lester has been able to live a cancer-free life since January 2019.
Experts at CHI Saint-Joseph Recommend that if you have a strong family history of breast cancer or if you find a lump during a breast self-exam before the age of 40, seek immediate medical attention.
Information on breast care and self-exams can be found here. Uninsured or underinsured women needing mammograms can be found here. CHI Saint Joseph also offers a HOPE line for cancer screenings by calling 844-940-HOPE or by visiting here.