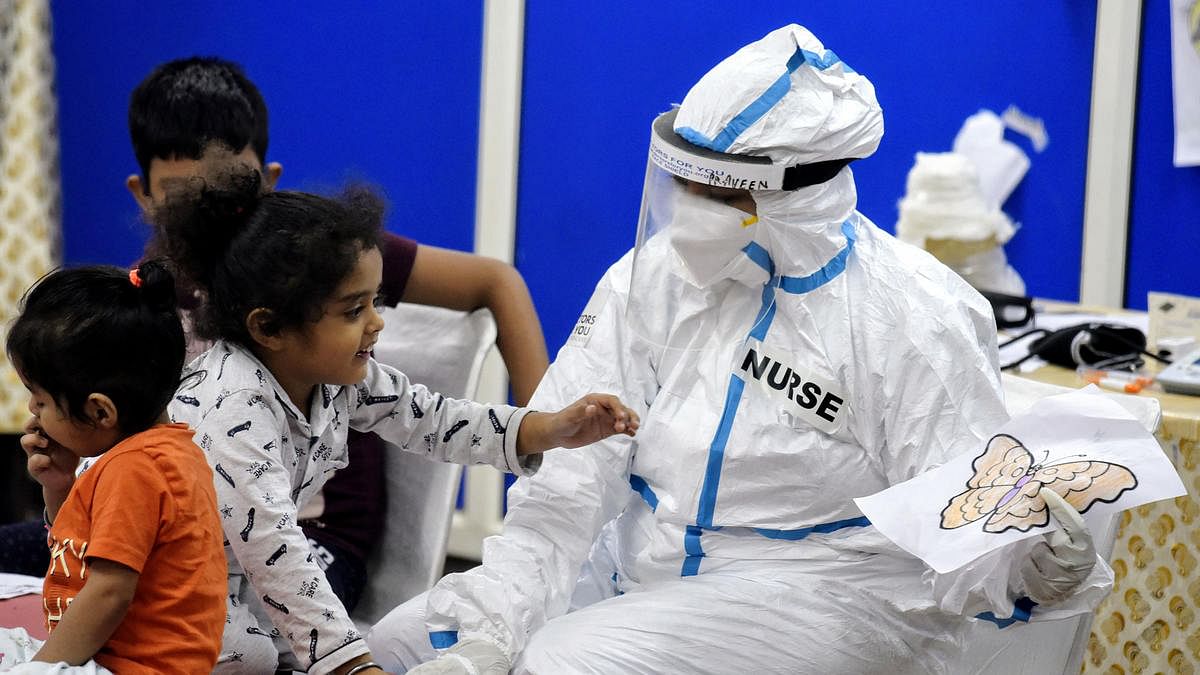 Less than 20% of students in India could access education in pandemic, learning suffered
Aabout 140 million of India's rural poor migrate seasonally in search of work. These migrants, part of India's unorganized labor force estimated at over 350 million, move back and forth undertaking a wide range of casual jobs in construction, manufacturing, services and agriculture. They remain excluded from services and rights as workers and citizens, in their rural homes and workplaces (Aajeevika Bureau, 2014). Imagine the case of a family where there is a sick or disabled member, a family that is overwhelmed by debts or a single-parent family. The children of these families are more at risk of using drugs, engaging in child labor or even trading flesh. For these children, school is undoubtedly a better and safer place for their holistic development.
The Indian government, under the RTE Act, has granted free education to children between the ages of 6 and 14. Although commendable, many vulnerable children still slip through the cracks and end up in unorganized sectors as child labourers. There are three groups of such children – the first group are those left behind in villages by parents employed elsewhere, the second group are those who have migrated with their parents and are often engaged in the construction, brick kilns and agricultural sectors, and the third group includes children who migrate themselves to find employment. Children in the first group are dependent on remittances sent home, so reducing or eliminating parental wages due to lockdowns and restricted travel during pandemics has immediate effects on food intake and health outcomes. health of these children (Unni, 2020). Likewise, children in the second and third groups are directly affected by the closure of economic activities. Children in India have been vulnerable for a plethora of reasons during the pandemic and the resulting lockdown. Job losses faced by migrant workers have compounded the hardships of these children.
---
Read also : WTO seminar: India highlights its experience in providing food to the country's most vulnerable people
---
Children of migrant workers
A media report in 2020 shed light on the plight of a Bihar teenager sold to a garment factory. This boy and others his age stayed in deplorable conditions in a factory in Gujarat and worked hard to get their employers to send money so their parents could survive (The New Indian Express, 2020). A study carried out in seven cities on informal construction sites revealed the condition of support for migrant children, 30% of them have never been to school, 80% have not had access to education and 90% do not did not have access to Integrated Child Development Services (ICDS). Most of the children lived in unsafe and unsanitary conditions (Unni, 2020). The International Labor Organization (ILO) has predicted that with the pandemic, the world could see an increase in child labor for the first time in 20 years, reversing years of progress in this area (ILO, 2020).
COVID-19 Orphans and children of single parents
In June 2021, the number of children who lost their childhood only peaked higher. After the second wave, a new category was added to the list of heartaches caused by the pandemic – "COVID-19 orphans". Many children have been orphaned or now have a single parent after the pandemic. More than 9,300 children have been orphaned or abandoned in the COVID-19 pandemic since March 2020, as reported by the National Commission for the Protection of Children's Rights (NCPCR) to the Supreme Court (Mathur , 2021). The NCPCR has taken action and launched a pilot project to map children and families vulnerable to child trafficking and match them with potential benefits under different government programs. The commission recommended that extensive mapping be initiated in all districts in all states that are potential hotspots of "source", "transit" and "destination" of child trafficking, according to information available from Anti-Human Trafficking Units (AHTU) and National Bureau of Criminal Records (Indian Express, 2021). However, identifying these children will be very important given the vulnerability they may face in the near future with only 27% of functional AHTUs.
Increase in malnutrition
India is home to 40% of the world's undernourished children (Bharthi et al., 2017). Being in school, under the supervision of adults, participating in games or other learning activities, receiving the midday meal (MDM) provided by the government has helped to address many vulnerabilities. However, the pandemic and resulting school closures have acted like ripping the bandage off a raw wound. The pandemic has increased risk factors for child malnutrition. Due to the disruption of Anganwadi and MDM services, many children do not have access to regular and nutritious meals. The 2019-2020 National Family Health Survey (NFHS) shows that the prevalence of malnutrition among children has increased from the previous survey year, 2015-2016, in a few states. India may not meet the nutrition indicator improvement targets set under POSHAN Abhiyan (former National Nutrition Mission) for 2022, and even the targets set by WHO and UNICEF for 2030 (Ambast and al., 2021).
Reports of child trafficking and abuse are commonplace, in most cases there is a direct causal link between guardians who lack the money to support their families. Traffickers use families' vulnerabilities to convince guardians to send their children away on the pretext of employment opportunities for a paltry sum of Rs 5,000 to 15,000. After the pandemic, with schools closing, reports of children victims of trafficking have increased sharply. Between April and September 2020, 1,127 children suspected of being trafficked were rescued across India according to Bachpan Bachao Andolan (News18, 2020).
Vulnerability caused by disrupted schooling
UNESCO (2021) lists some consequences of school closures including interrupted learning, poor nutrition, unprepared parents, teacher confusion and stress, childcare gaps, cost economic growth, increased drop-out rates, increased exposure to violence and exploitation, etc. Each pointing to how the world would see a generation succumb holistically, this has far-reaching economic, psychosocial and political consequences for a country like India. A report stated that India is set to face an economic loss of over US$400 billion in the future and not to mention an entire generation without skills and therefore without jobs (The Economic Times, 2020). Here is the case of one such dropout who was interviewed during the study (see Box 11.1).
---
Read also : Mass layoffs, offline classes: How edtech is coping with the reopening of schools and colleges
---
School systems and their poor preparation leading to vulnerability
According to data from the Unified District Information System for Education (U-DISE) 2019-2020, there are 1,507,708 schools in India under 17 different types of school management (Table 11.1). For analysis, schools are divided into six types

as described below. Figure 11.3 shows the distribution of students across all school types.
Table 11.2 shows that the majority of enrolled children study in type A and E schools. While type A schools are government-run or government-assisted schools, type E schools are private, non-assisted schools. According to a 2019 estimate by the Ministry of Statistics and Program Implementation (MoSPI), 70% of families in India pay less than Rs. % of families pay more than 1,500 rupees per month. as tuition in unaided private schools (Central Square Foundation, 2020). Unsubsidized private schools pay teachers' salaries from fees collected from students and therefore it can be assumed that teachers in low-cost private schools are paid very little. Given the type of expense and the skills of the teachers involved, it is unlikely that such schools where payment per child is less than Rs 1,500 per month, would be able to offer online tuition to children. According


Table 11.2, if 1% to 2% of children in type B and C schools and 15% to 16% of children studying in unaided private schools have the option of online education during the pandemic years, as well than a few others from a few states like Kerala, the total percentage of children getting continuity in their studies is not even 20% which is an alarming picture.

What will be the consequence of the school closing? In accordance with the "Non-detention policy" mentioned in the RTE law, the automatic promotion of all children to the following grades is in progress without any school commitment at least until the 8th year (Law on the right to education , 2009). Figure 11.4 shows the grade level of these children in May-June 2022 according to their grades by age. As most of these children are deprived of any school commitment due to the school being closed for two consecutive academic sessions between March 2020 and March 2022, when they will be promoted to the next class, many of them will have a huge learning gap. Students a few years old might find it more difficult to manage due to the change in expected level of learning. Students entering adolescence need a unique method of education. The psychosocial space of the students must be considered as the most important factor when reintegrating them into the school process after the interruption of two consecutive academic years.

This excerpt from "Covid-19 Pandemic, Public Policy, and Institutions in India" edited by Indranil De, Soumyadip Chattopadhyay, Hippu Salk Kristle Nathan, and Kingshuk Sarkar is published with permission from Routledge Research in Public Administration and Public Policy.