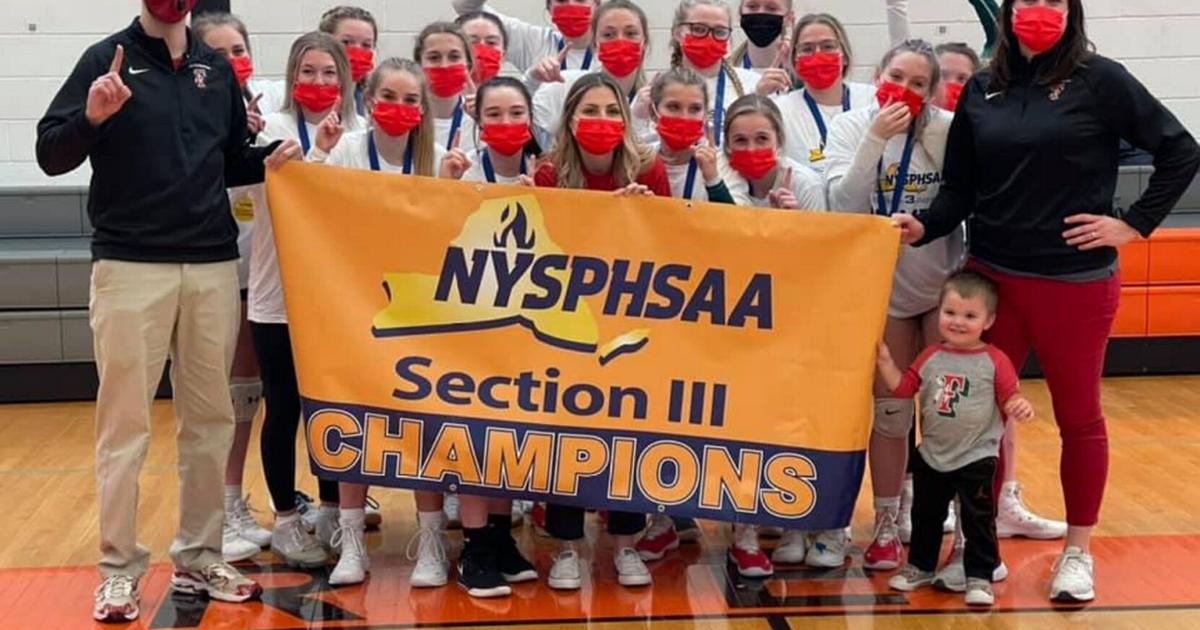 High School Sports: Fulton Red Raiders College Volleyball Team Wins Section 3, Class A Championship | Oswego County
FULTON – The Fulton High School volleyball team had many reasons to be grateful at the Thanksgiving dinner table this week.
The Red Raiders recently ended a prolific season winning the Section 3 Class A Championship and claiming a State Regional victory before falling to future State Champion and Section 2 power, Burnt. Hills-Ballston Lake, in a state playoff quarterfinal on Nov. 12 at Gloversville High School.
The Red Raiders won their first section title under head coach Jessica Frost and won the title for the first time since 2011 overall by sweeping rival Jamesville-DeWitt, 3-0, on November 6 in Phoenix Middle School.
"I knew we could do it and we all trusted each other and having that feeling, winning and going as far as we did was an amazing experience," said junior outside hitter Addison Pickard. "It definitely left me with tears in my eyes and I would do anything to get back to that day."
The Fulton players took to the pitch to celebrate the team's first sectional championship in a decade after completing the Jamesville-DeWitt shutout – 25-19, 25-17, 25-17 – and were joined by supporters of the stand team taking the moment. .
Emotions ran high after putting the finishing touches on their 17th straight victory in front of a crowded gymnasium.
Fulton won first place in the Class A Section 3 standings and finished 18-2 overall after producing a 10-2 record during the Fall II campaign held last spring, which was delayed from fall due to COVID-19 issues with no section tournament conducted.
"Winning section sections is probably every senior's dream, especially if they've never won any, so I think it really meant a lot to a lot of the seniors, it's our last year and getting something truly memorable, "said senior Lydia Gigliotti. "Obviously the last year with COVID was a momentous one, but this one was a good memory. "
The Red Raiders finished a three-game season against the Red Rams after losing their only meeting last year, and the two faced each other the season before.
Second-year outside hitter Natalie Frost led the way with 15 assists while junior passer Sydney Sachel added 21 assists and eight digs. They each credited a positive frame of mind and the confidence of their regular season sweep as factors in the decisive victory for the section crown.
"As soon as we got there, we were making music, we were having fun, we acted like we were already regions on the gym," said Natalie Frost. "I have the impression that this positivity and working as a team to prepare for it has contributed to our confidence. Throughout the game we stayed calm, we stayed positive and worked together to come out on top. "
Sachel added, "It was crazy, there was always such good energy. There was never a time we were down, we just held on and it was an amazing experience. "
Fulton qualified to claim a 3-0 victory over Massena on Nov. 10 at Ogdensburg in a state regional playoff game before ending his season in the next round.
The Red Raiders achieved an 18-game winning streak – ending their season with a first loss to Liverpool and a final loss to Burnt Hills-Ballston Lake – and lost just six sets all year before s' falling 3-0 on their last outing. They shut out 15 enemies and their cumulative set scores beat their opponents, 54-9, over the full season.
Fulton won the Empire Division of the Salt City Athletic Conference while Jessica Frost took home league coach of the year honors and Natalie Frost was named player of the year, making the All-First Team. SCAC with Pickard, Sachel and Mackenzie Coant senior.
"I think their combative attitude and never give up, and as the season went on I think they became more confident in themselves and with each other on the pitch," said head coach Jessica Frost. "It's amazing how much they've grown in such a short time. "
The players expressed their gratitude for the large crowds who followed them throughout their playoff run, running long distances to offer their support in the later stages.
They were also grateful for the extra time spent building their team bond through a variety of off-court activities that were restricted due to COVID-19 issues last year and left a void for players. .
"I am very proud of everyone and I will miss the girls very much, we have spent a lot of time together during the extended season and even before the season," said senior libero Joann LeVea.
"Our bus rides, we play music and we are always loud and we go out to eat," she added. "Especially towards the end of the season we did more together, we slowly got closer and really became a team."