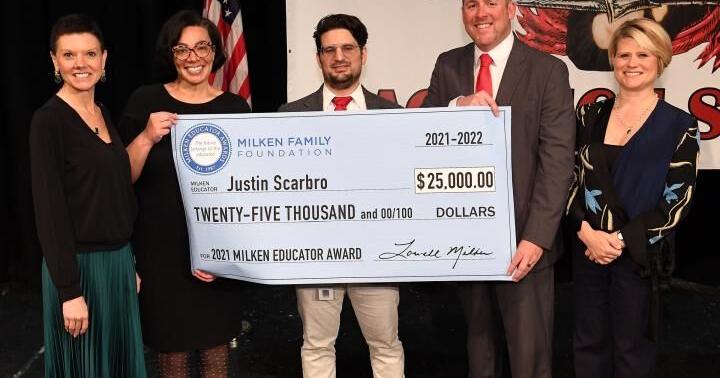 Greensboro High School Teacher Surprised With $25,000 Milken Educator Award | Education
Justin Scarbro of Walter Hines Page High School brings a positive outlook and enthusiasm to every student he teaches
Greensboro, North Carolina (February 24, 2022) – At a surprise town hall earlier today, Justin Scarbro, social studies teacher at Walter Hines Page High School, received a $25,000 Milken Educator Award for excellence and innovation in education. Scarbro is creative in bringing history and social studies to life in his classroom, using real-world scenarios to capture his students' imaginations and build their understanding of the role of history in our lives. today.
Milken Educator Awards Vice President Stephanie Bishop, North Carolina State Superintendent of Public Instruction Catherine Truitt and Guilford County District Superintendent Dr. Sharon Contreras surprised Scarbro with the honor before encouraging students, colleagues, national and local authorities and the media. Scarbro is just one of two honorees from North Carolina and among more than 60 to receive the recognition in the 2021-22 school year.
Hailed as the "Oscars of Teaching," the Milken Educator Awards celebrate, elevate and activate the American teaching profession and inspire capable young people to join it.
"Both personally and professionally, Justin Scarbro's life inspires his students, friends and neighbors to give their best to themselves and their schools," commented Bishop, who is herself a 2001 Milken educator from Virginia. . "He is a leader in his class and in his community, and we are delighted to honor him here today.
The Milken Educator Award is no lifetime achievement honor. Recipients are hailed early to mid-career for what they have achieved – and for the promise of what they will achieve given the resources and opportunities inherent in the award.
North Carolina State Superintendent of Public Instruction Catherine Truitt added, "Today's award is intended to recognize an excellent educator and the innovative and creative ways in which Mr. Scarbro has led so many inside and outside the classroom. I am thrilled to celebrate this outstanding teacher in our state and happy that we can honor the extraordinary efforts he puts into inspiring and motivating his students. This distinguished award also provides Mr. Scarbro with exciting networking and professional development opportunities, which will only improve outcomes for both teacher and student. It's an exciting day for Greensboro and for our state.
Read more about Justin Scarbro
Creativity: Walking into Justin Scarbro's social studies classroom often feels like walking into a party, with cheerful background music and the enthusiastic buzz of students talking about current events or important moments in history. Scarbro uses his extensive knowledge of effective teaching practices to engage all of his students in critical thinking and discourse. Students take on roles as members of the Constitutional Convention during civics classes and create their own campaign ads when studying the role of the media in AP government policy. Scarbro uses classroom data to help every student grow and succeed, believing that every student has the ability to reach a high level with the right support. He maintains high standards in the classroom and works alongside his students not as an expert or authority figure, but as a guide and facilitator. Scarbro gets to know his students beyond the academics, using the relationships he builds to cultivate a learning experience that motivates them and pays dividends in their learning successes.
Motivation: Scarbro is an integral part of his school and local community. During the pandemic, he has brought a steady stream of positivity and support to his colleagues, always doing his best to help navigate the changes towards virtual teaching. Scarbro coached baseball and basketball at the school, is an associate athletic director, sponsors student government, and advises International Baccalaureate students on their extended essay capstone projects. Forging lasting relationships not only with students but with their families, he creates an environment where parents are valued actors in the process of educating their children.
Leadership: Scarbro has represented Guilford County Schools in high profile opportunities both domestically and internationally. In fall 2020, he participated in an online roundtable with current First Lady Dr. Jill Biden on virtual teaching and the future of education. Scarbro traveled to Peru and Chicago with Deliberating in a Democracy to promote the teaching and learning of democratic principles and civic deliberation in the United States and Latin America. He worked on Building Bridges, a district-wide history program funded by a grant from the United States Department of Education. Scarbro facilitates the Social Studies Department's professional learning community, has provided professional development for the district on financial literacy, and is part of the Schools for Equal Opportunity team, focused on reducing barriers to education for students of color and creating a culturally relevant and inclusive environment for all students.
Education: Scarbro earned a bachelor's degree in secondary education in 2006 from Ohio University.
Learn more about the Milken Educator Awards: "The future belongs to the educated."
In addition to the financial award, recipients of the Milken Educator Award join the National Network of Milken Educators, a group of more than 2,800 high-level teachers, principals and specialists. The network is a rich resource for fellow educators, legislators, school boards and others committed to excellence in education.
The 2022 winners will also attend an all-expenses-paid Milken Educator Awards Forum, where they can network with their new colleagues as well as veteran Milken educators and other education leaders on how to increase their impact on education from kindergarten to 12th grade. Additionally, they will learn how to get involved in the Milken Friends Forever (MFF) mentorship program, in which first-year Milken Educators receive one-on-one coaching and support from a veteran Milken Educator on ways to raise their educational practice and to play an active role in educational leadership, policy and practice.
Over the years, more than $140 million in funding, including $70 million for individual cash awards, has been dedicated to the overall Milken Awards initiative, which includes powerful professional development opportunities throughout recipients' careers.
Milken's veteran educators frequently hold leadership positions nationally, nationally and internationally.
"We find you. You can't find us! Unlike most teacher recognition programs, the Milken Educator Awards initiative does not have a formal nomination or application process. Applicants are selected through a confidential screening process and then vetted by blue ribbon committees in each state. The most outstanding nominees are recommended for the award, with the final selection being made by the Milken Family Foundation.
The cash prize of $25,000 is unlimited. The recipients used the money in various ways. For example, some have spent the funds on their children's further education or their own further education, funding dream excursions, creating scholarships, and even adopting children.
To get regular updates on surprise Milken Educator Award events or to keep up to date with events, follow and use the hashtag #MilkenAward on Facebook (@MilkenEducatorAwards), Twitter (@Milken), YouTube (/MilkenAward), Instagram (MilkenFamilyFdn) and TikTok (@MilkenAward).
###
About the Milken Educator Awards
The first Milken Educator Awards were presented by the Milken Family Foundation in 1987. The awards provide public recognition and individual financial awards of $25,000 to elementary and secondary school teachers, principals, and specialists across the country who promote the excellence in education. Recipients are announced early to mid-career for what they have accomplished and for the promise of what they will accomplish. The initiative was created by the Milken Family Foundation, which celebrates 40 years of improving education in America and around the world. Learn more about MFF.org.