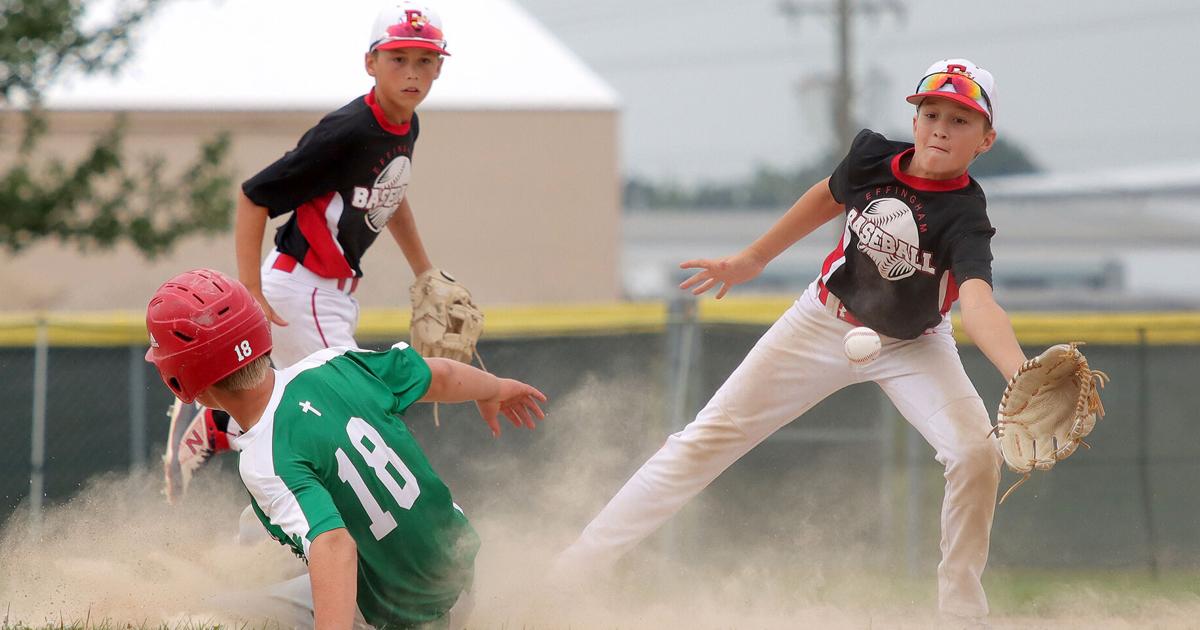 Effingham Junior High School edges out Sacred Heart in first match in over 20 years between the two schools | local sports
Geographically, it makes perfect sense for Effingham Junior High School and Sacred Heart Grade School to play track and field, specifically baseball, against each other.
The two schools are adjacent across Henrietta Street in Effingham, but it has been more than two decades since the Mustangs and Shamrocks met on the diamond.
Until Saturday.
Effingham hosted Sacred Heart at Effingham High School Baseball Field, with the Mustangs hanging on to a 6-5 victory, from behind.
"I think it's great. We're here in the same town so there's no reason we can't play each other," Effingham head coach Rod Wietop said. have a really good ball team, their kids have done a good job, they put the ball in play, they have good pitchers, so it's just fun.
The Shamrocks opened the game by scoring the first four runs of the contest in the first two innings.
Sacred Heart pushed through two in the opening frame.
William Hecht started the rally for the Shamrocks with a brace after a crush from Jacob Warner. Jude Traub was then intentionally walked before Daegan Mooney walked, and Mason Karolewicz paired on a single that made it 2-0.
The single was Karolewicz's only hit of the match.
Hecht and Traub led the team with two hits apiece.
Traub finished with three RBIs, including two in a two-run second inning for Sacred Heart.
Warner started this rally by drawing a march. Hecht then followed it up with a base hit before Traub led off both runners with a brace that made it 4-0.
From there, it looked like it could be an easy game for the Shamrocks, who entered the competition with a 1-3 record and struggled through the early stages of the season.
However, those struggles eventually reared their ugly heads, starting with the Mustangs responding to Sacred Heart's two-run high in the second with a four-run frame in the bottom half of the inning.
Andrew Leonard, Caden Loew and Westin Hayes drew steps for Effingham to start the frame before TJ Raddatz launched a bunt attempt, allowing the first inning to score and all runners reaching their respective bases safely after Leonard beat the pitch at home.
Carter Brady then followed it up with a single that led to another run before Hayes scored on a passed ball to make it a one-run game, 4-3.
Effingham didn't stop there, however.
After the ball passed, Carson Fox walked another for the Mustangs before Raddatz scored on a base-loaded free pass by James Wendt to tie the game.
Overall, commanding the strike zone has been difficult for Sacred Heart throughout the contest. The Shamrocks finished with 14 steps.
Assistant coach Luke Schuette, who spoke to the media after the game, said the control issues boiled down to one area in particular.
"Confidence," Schutte said. "It's simple, but it's mostly strategy. You don't want to stick fastballs in the middle; you need to keep them off balance and in the rocking chair.
The six Mustangs that ended up scoring tied on balls before scoring a run.
Effingham head coach Rod Weitop hailed his team's ability to take the lead, although he added that his side were not necessarily used to it.
"Usually we jump, and they have to chase us, but today is a bit different. We are falling behind, but no one lowers their heads," Weitop said. "We are starting to shake off and we believe in ourselves. We know we can do things with our legs. We know we're a good bunting team, and our pitchers can come in and throw strikes; we have a deep pitching staff, so it was good to go in and not panic.