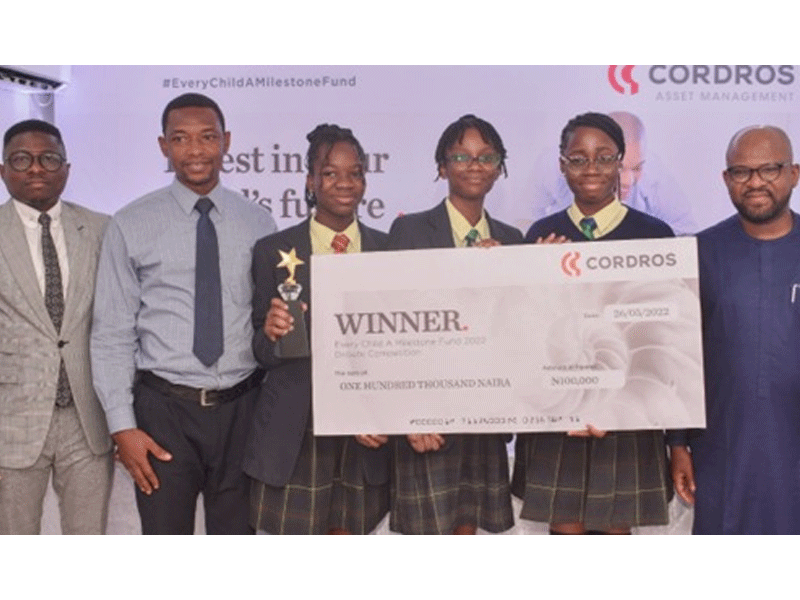 Cordros Asset Management Unveils Every Child Has A Milestone Campaign
In a further attempt to deepen financial literacy, Cordros Asset Management Limited (CAML), a wholly owned subsidiary of Cordros Capital Limited, and licensed by the Securities & Exchange Commission as a fund/portfolio management company, has unveiled the Children Milestone Fund campaign.
Speaking on the development in Lagos, Cordros Asset Management Limited's Head of Retail, Ayodele Oni, said the company is pleased to announce that Cordros is launching the Every Child a Milestone Fund initiative aimed at encouraging parents and guardians to invest in the long-term stage. achievements of their children such as higher education, study abroad, property, etc.
According to him, "As Nigeria celebrates Children's Day on May 27, we believe it is very timely to have a conversation to foster the inclusion of children when creating investments. We encourage parents and guardians to prepare each child for their future by opening a The Cordros Milestone Fund account and enjoying a long-term high return on investment at medium risk, investing in liquid assets and encouraging the savings and investment culture of children.
"The Cordros Milestone Fund is open to investors who wish to teach financial discipline to their children by investing a portion of monetary donations received from visiting family and friends, while parents contribute significantly and invest in the future of their children."
While talking about the investment objective, he noted that the objective of the initiative is capital appreciation, diversification between asset classes, automatic rebalancing, automatic adjustment for evolution risk profile, annual income and professional portfolio management.
Regarding the main benefits, he pointed out that: "It is an opportunity to save and invest for your children an annual income to meet tuition obligations, peace of mind about the future of your child, a long-term investment in higher education and the main stages of life".
He further pointed out that the company's target investors are parents and guardians investing for their children, teachers and school management, individuals, groups and associations seeking items- ideal gifts for children, adding that the minimum investment is only 2,500 naira.
Earlier in his welcoming remarks, Managing Director of Cordros Asset Management, Gbolahan Aina, who welcomed attendees to the event, revealed that the firm practices a disciplined approach to value investing.
According to him, "We use both quantitative and qualitative research to make our investment decisions. Each of our clients' investment portfolios is tailored to their risk tolerance, time horizon and investment objectives.
"We are focused on creating a balance between growth, capital preservation and investment income. At Cordros Asset Management, we understand that asset classes operate differently and carefully consider this when formulating asset allocation strategy.
"The Children Milestone Fund initiative is an opportunity for parents and guardians to instill the culture of savings in children from an early age."
The highlight of the event was a debate on the theme: "Children who start saving and investing early become more financially independent than children born into wealth.
Schools that participated were Halifield Schools, Maryland, Lagos. Chief debater is Summayah Tijani, supporting debater is Odunayo Bankole; Supreme Education Foundation School, Magodo, Lagos, the chief debater is Iteoluwakinshi Tomomewo, while the supporting debater is Aderinsola Odogiyon.
The panel of judges deemed Supreme Education Foundation School, Magodo, Lagos the winner of the debate with 531 points, while Halifield Schools, Maryland came second with 485 points.
The school that came first received a check for N100,000 and other gifts, and the school that came second received gifts.