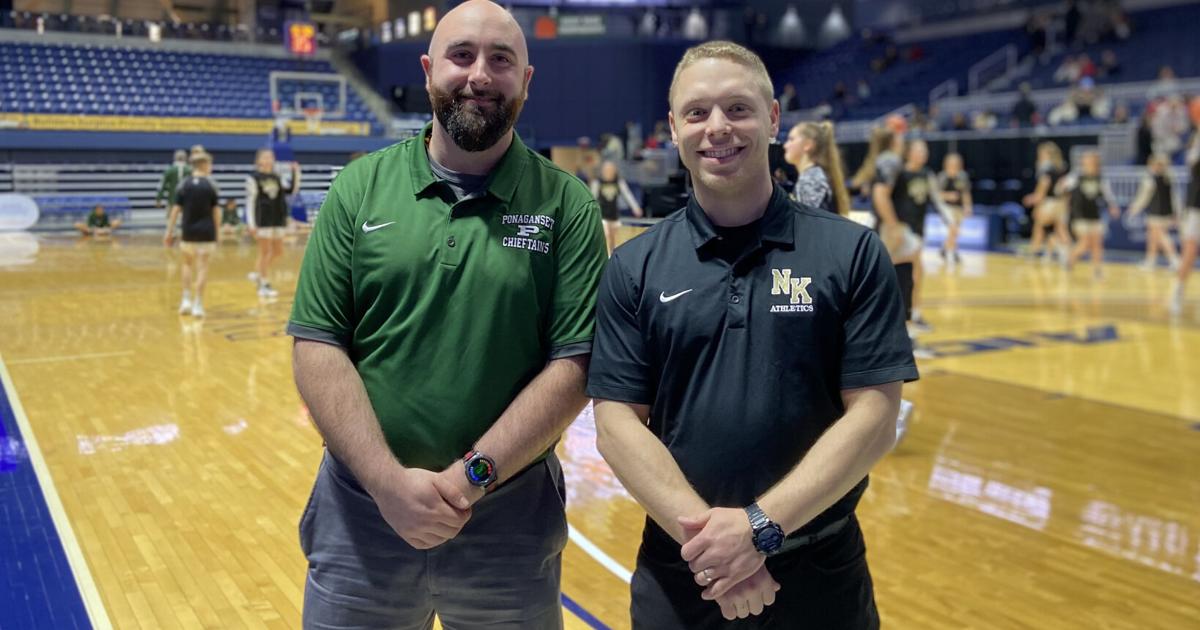 Athletic Coaches Help Advance High School Sports | Sports
Coaches have long been a common sight in professional and collegiate sports. Until the last decade, they were much less common on the fringes of high school sports.
The arrival of certified athletic trainers in much of Rhode Island's high schools has been a change for the better, say North Kingstown coach Shawn Petrucci and Ponaganset coach Sal Palermo.
"We think it's very important for athletes in Rhode Island and anywhere in the country to have athletic coaches at the high school level," Petrucci said. "We are that first point of contact for athlete health care."
March is National Athletics Training Month, a time to salute the unsung heroes who keep athletes going, and a chance to raise awareness of their impact.
"We're here for every moment an athlete is competing," Petrucci said. "People might think we're kind of staying there, but we're ready to respond to any acute or chronic injury that may arise. A sprained ankle, a torn ACL – we're the first to see these injuries when they happen. We specialize in injury prevention, injury assessment, diagnosis, treatment and rehabilitation.
Petrucci grew up in South County and was a state champion wrestler at South Kingstown High School. Palermo was also an athlete. He remembers one of his own wounds that received the usual one-size-fits-all treatment.
"Ever since I was young, I've always been into sports," Palermo said. "When I was in high school, I hurt my ankle. You go to the ER and they put you in a boot for two weeks and on crutches. It stuck with me.
Palermo went to Lasell University, where he earned a bachelor's and master's degree. He is now in a doctoral program at Temple.
Petrucci graduated from the University of Rhode Island with a degree in kinesiology. He wanted to play sports but was unsure of his exact path to an internship with the football team coaches. Something clicked and he headed west to earn a master's degree at Pacific University in Oregon.
Petrucci and Palermo both work for Performance Physical Therapy, which has contracts with nine schools. Several other companies also have contracts with schools. The support of school district athletic directors, booster clubs, coaches, parents and school committees has helped attract more and more coaches to the fields and courts over the years.
Palermo has been in Ponaganset for about five years. Petrucci started his career at Exeter-West Greenwich before moving to North Kingstown this school year.
Trainers are recognized by the American Medical Association, Health Resources Services Administration, and Department of Health as Allied Health Professionals. Coaches assigned to high schools work within schools, providing athletes and coaches with a valuable resource at their fingertips.
"We are very passionate about the profession. We love our job," Petrucci said. "You kind of have to do it because of the weird hours. But it really is the best job you can have. You build this relationship with the children. It's hard to be the bearer of bad news. It's more than the physical side of injuries. There is also the mental side. You're kind of there for them to lean on. They see you every day. These relationships are really important.
Injury assessment and rehabilitation dominate the work. COVID protocols were added to the job description in 2020. With the growing awareness of the impact of concussions, these protocols have become increasingly important.
There are also the most dramatic moments. Palermo was working at a junior college basketball game in 2018 when a referee collapsed.
"The referee blows his whistle and just hits the ground," Palermo said. "I had this 'Oh shit' moment. Ran to him. He was stiff as a board and his face was blue. Luckily a parent was a paramedic so we were both there. No pulse. I got started doing chest compressions. I did 30, then another 30. Luckily he came back.
In addition to their work in the schools, Petrucci and Palermo are the government affairs presidents of the Rhode Island Athletic Trainers Association. They are now pushing for a bill that will bring PPE pens to athletic facilities and a bill that would add a 'Return to Learning' element to concussion protocols, allowing students to have classroom accommodations when they recover.
And a major goal, as always, is to have trainers in every high school.
"As a state organization, we really insisted on having trainers in every school," Petrucci said. "Once we get into the schools, parents, staff and administrators see how valuable we are to the athletes and the school as a whole. You have a school nurse for class hours. There should be a medical professional for after school hours. We think that's really important.