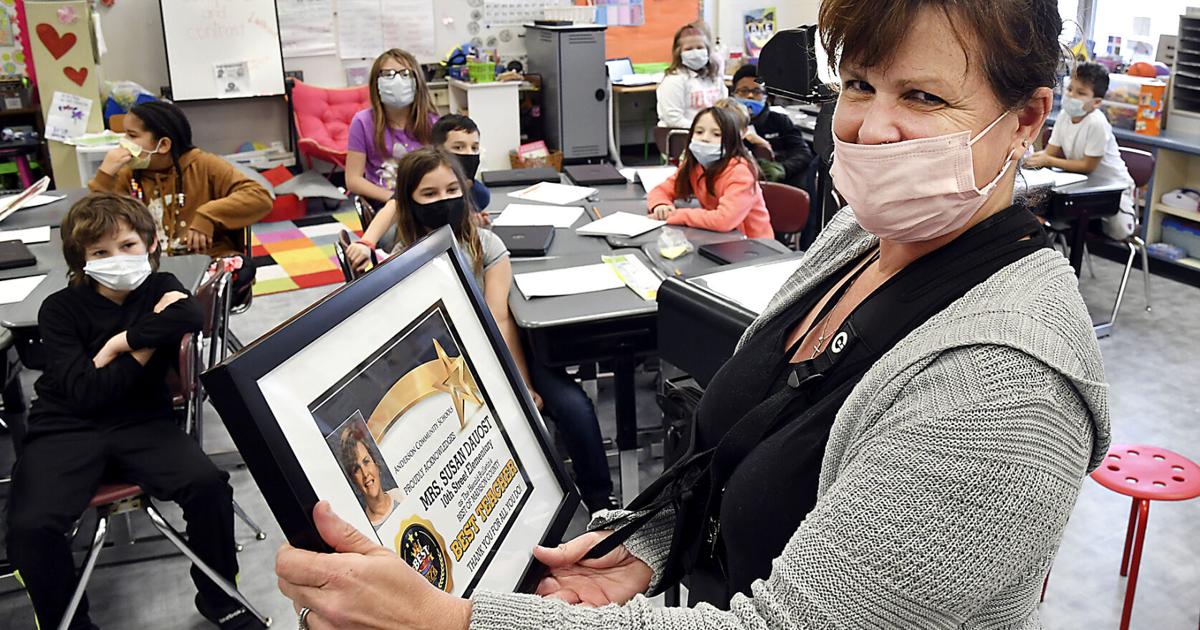 Anderson school teacher selected as educator of the year | Local News
ANDERSON — Surrounded by school administrators and her third-graders on Thursday, Tenth Street Elementary School teacher Susan Daoust was announced as Madison County's 2022 top educator of the year.
When it was announced, "Daoust's Doggies", a nickname she gives to her students, burst into excitement, applauding their teacher's new achievement.
Daoust felt humbled when she presented the award, saying it was the best gift she could ever receive.
She first found out she was nominated for the award because one of her students' parents tipped her off.
Once she hit the top five, more people started telling her and she was shocked.
"Honestly, I thought I was going to finish second," she said. "Second best in Madison County is damn good."
School and district administrators expressed their excitement and appreciation for Daoust during the surprise announcement.
"It's way too late for you and I'm very proud of you and this moment," Tenth Street Elementary principal DJ Suchocki told Daoust.
He explained that Daoust is committed to ensuring its students are where they need to be.
"She does a good job (at) taking what she teaches and coming to their level," Suchocki said.
Eric Davis, assistant principal of Anderson Community Schools, said Daoust is a phenomenal teacher.
"She is indicative of the quality of teachers we have (at ACS)," said ACS Superintendent Dr. Joe Cronk.
While appreciating the award, Daoust said she was "no better than anyone else".
"There are so many other great teachers in our district," she said, to which Cronk said there was no one more deserving than her.
In her 27 years of teaching, Daoust, a native of Anderson, taught only for the ACS, although she taught at many schools in the district.
Daoust, who also attended ACS, has two children, one who graduated from ACS and the other who is still attending school as a senior.
She indicated that she came from a family of teachers, as both of her parents were teachers for the ACS.
"We're all about ACS," Daoust said of his family.
Right after the honor was announced, Daoust said his father would be extremely happy because he had been teaching for a long time.
One of the reasons Daoust became a teacher was because of her mother.
"She taught at Forest Hills and she was so good," she said. "She built the relationships that I learned to do by watching her. Really hard on them but loving them.
Seeing her mother bond with the students and seeing how much her students loved her as a teacher encouraged Daoust to pursue teaching.
Throughout the pandemic, Daoust noted that she still loved her children, including cuddling.
"I always hug my kids, because some of them never get hugs," she said.
Three weeks ago, Daoust underwent rotator cuff surgery and returned to school the week after the procedure.
She remembers everyone asking her why she was coming back so early, to which she replied, "My kids need me."
To follow Kylee Mullikin on Twitter @kyleemullikinhb, or call 765-640-4250.